TITLE: Room
WRITTEN BY: Emma Donoghue
PUBLISHED BY: Picador
HOW I GOT IT: AMAZON
VERSION I READ: ebook
PAGES: 339
(PLOT BY GR) It's Jack's birthday and he's excited about turning five. Jack lives with his Ma in Room, which has a locked door and a skylight, and measures 11 feet by 11 feet. He loves watching TV but he knows that nothing he sees on screen is truly real. Until the day Ma admits that there's a world outside.
REVIEW: I've already seen the movie few years ago and I fell in love with both Brie Larson and the little Jacob Tremblay: they were so real. It wasn't an easy movie. Since it's a really though story I wanted to take my time before reading the book on what the movie is based on. I think 2 years was enough time, so here I am.
"Room" is so overwhelming that it couldn't even be described. My heart just pumps of tenderness every single time I read a line of this book, but it's also heartbreaking. This book works so incredible WELL because it's written by the kid point of view.
Jack was born in the ROOM, he has no knowledge about any other reality; the only person he has ever talked with is his mother which he called MA' (I don't know if it's the same in the original version — I've read it in italian). His only friends are the one who sees in television as Dora or the one he reads about in the few books that Old Nick bought them as Dylan; even when a mouse starts going around the room it suddenly becomes Jack's friend. The loneliness of Jacks is underlined by the fact who acts like the object of the room were alive: he calls them Bed or Table and he says goodnight to all of them when he goes to sleep.
The book is full of tenderness because we can live the story from Jack's point of view and all his naivety. (Jacob Tremblay did an incredible job in this role)
But at the same time, we're terrified and disgusted about all the story because we're grown up (sadly) and we know what happens at night when Jack is in the wardrobe counting all the squeaks. Everytime my heart breaks.
And the reader feels trap in the Room like Jack and his mother.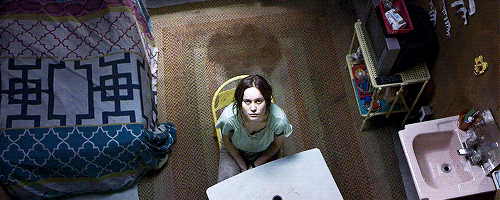 "When I was four I thought everything in TV was just TV, then I was five and Ma unlied about lots of it being pictures of real and Outside being totally real. Now I'm in Outside but it turns out lots of it isn't real at all."
"Room" is really well-written and SO realistic. It talks about rape, kidnapping and how it is to adjust ourselves in the real world after facing a despicable event. The story is written like a 5years old would do, but it's so POWERFUL.
READ IT. READ IT. READ IT. AND WATCH THE MOVIE.
FAVOURITE QUOTE
"It's weird to have something that's mine-not-Ma's. Everything else is both of ours. I guess my body is mine and the ideas that happen in my head. But my cells are made out of her cells so I'm kind of hers."